I've decided that I need to start "scheduling" my runs/miles on the calendar. I'm hoping that if I put them down in writing on there it will help me stick with what I am supposed to do. The last time I was religious about this was probably back in 2009 when I was training for my first full marathon. Sadly, I didn't really get to stick to THAT schedule because where I worked at the time had me really busy…but any way.
So the plan for the week is:
Monday – 3 miles
Tuesday – 4 miles
Wednesday – 5 miles
Thursday – 4 miles
Friday – 3 mile walk (or just rest)
Saturday – rest day
Sunday – Double Road Race (10K then a 5K)
I really need to incorporate cross training in there (how many times have I said that? #brokenrecord!) But sometimes I get so caught up in wanting to increase the miles for the week/month, that I lose sight on the other stuff. I doubt that I'll get to 1000 miles for the year and I just need to be okay with it. I mean after all, I didn't think about making that a goal until LAST MONTH!
How have I done so far? Well, the weather has gotten hot and humid again but these miles should be doable even for someone of my running caliber/ability. So here it is:
Monday – 3 miles COMPLETE
Tuesday – 4 miles COMPLETE
Wednesday – 5 miles COMPLETE 4 MILES
Thursday – 4 miles COMPLETE
Friday – 3 mile walk (or just rest)
Saturday – rest day
Sunday – Double Road Race (10K then a 5K)
I wimped out on Wednesday and only did 4 on the treadmill. It was SO GROSS outside, I just couldn't be out there and the treadmill…well we don't refer to it as the DREADMILL for nothing! Then I had some weird tightness in my left hamstring on Thursday during the first half mile of my run. I stopped to stretch it out, ran a little, walked to stretch it out and did some front kicks and side swings. The remainder of that first mile caused me concern but I slowed down (is that possible?) and the remaining 3 miles weren't bad. But mentally, I kept trying to feel it – does that even make sense? Glad I stuck with it cause I almost just went home. I think my form if off when I'm on the treadmill and this was some after effect of that. However, it reinforced that I am not running on Firday and I might not even walk. I will for sure keep stretching, using The Stick and icing.
On Wednesday morning we had a breakfast work function. It was our Conexión event. Conexión is the premier Hispanic professional connecting event in the Indianapolis region, hosted by the Indy Chamber's Hispanic Business Council. It was held at the Indianapolis Motor Speedway. The first speaker was Mark Miles, the new CEO of Hulman & Company which is the parent of IMS and he reminded me/us of this little factoid. Did you know that the IMS oval covers 253 acres. It is so big that: Churchill Downs, Yankee Stadium, the Rose Bowl, the Roman Colosseum and Vatican City all can fit inside it.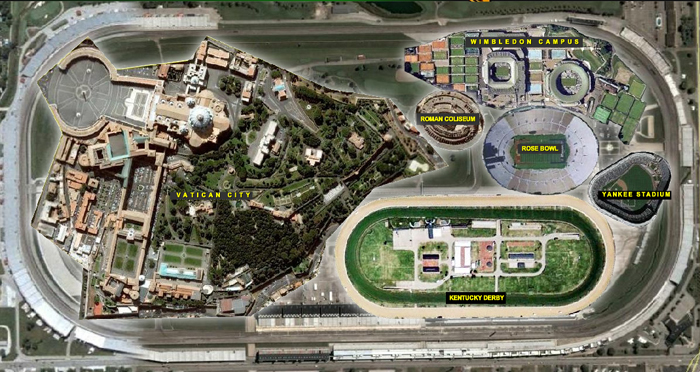 That's just crazy to think about. And this is literally less than 20 miles from my home.
Breakfast was nice but I played it safe with just a few scrambled eggs,some diced potatoes and bread pudding (YUM!). The event was held inside one of the chalets and was racing themed – go figure
The famous Pagoda
NASCAR – race is held in August
IRL car – race is help in May
Flags used in the race
Green is the start flag

White is for the final lap

Blue is used in NASCAR but not IRL

Checked flag is out as the winner crosses the finish line

Red is "session stopped"

Black is the penalty flag

Yellow is the caution flag
Has anyone ever been to the "Famous Oval" for either the IRL race or the NASCAR race?